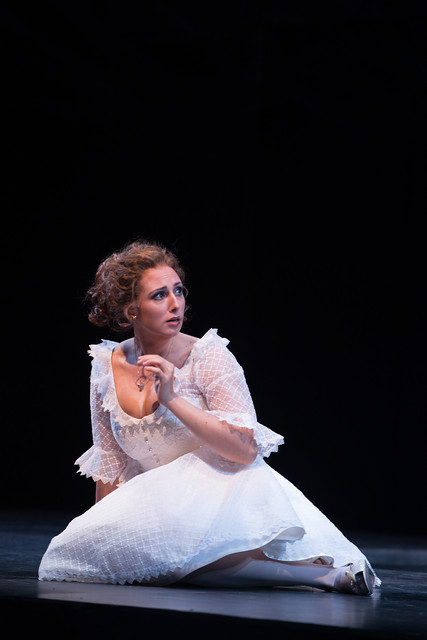 23 Oct

What do singers think on stage? (Seattle Opera Facebook)
In the moment before this photo was taken, Masetto has just pushed me. We'd been having a heated argument and he suddenly freezes me out – I grab him and he pushes me away and I fall to the ground.

In my opinion, Masetto has never been so cold to Zerlina before, and he's never hurt her. She suddenly realizes that she could really lose him. In the moment after this photo, she begs him to hit her, to do anything he wants to her. But then she allows them to reconcile. So, in this moment, it's very much a decisive choice — how to proceed, what to say.

I think we've all had fights with people we love — I draw on the memory of such a fight, and that memory helps me play the scene, with all of the high stakes that are true for the character. So, that's all going on in the 'front seat,' so to speak. In the 'backseat,' I'm quieting my breath, preparing to start this beautiful and iconic aria ("Batti, batti o bel Masetto") and getting Maestro Wedow in my line of sight. The aria starts without an intro, so it's very important that I'm with the orchestra for the first note. So, it's kind of a high-stakes moment musically as well as dramatically!
On Facebook